Okay, so this is not a college level course on soil composition but it is brief and steady jog through the key points of dirt prep and balance.  Based upon the balance between your soil's main ingredients, we can determine a great deal about its growing potential.  So what if you failed organic chemistry many moons ago and don't know pH from polymers?  No problem.
First, soil is made up of clay, sand, silt, and some biological sediment.  I didn't make up the rules, that's just what they are, okay?

Sand is that largest particle in the soil and is irregular in shape. The sand particles do not fit together snugly, so there are gaps between the individual particles. The gaps provide a space for air and water to collect which is needed by the plant roots. The gaps also mean that the sand can be easily accessed by roots. Too much sand will allow water to drain quickly from the surface and plant roots become deprived of nutrients and water.  Basically, the plants wither and die of dehydration and are then washed away completely when the rains come.  Why doesn't CSI do an episode on that?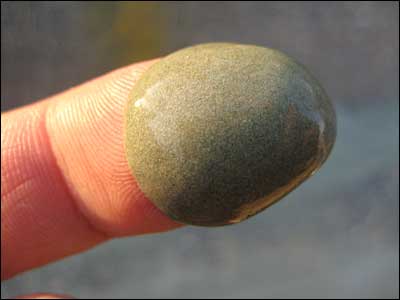 Silt is the middle size particle and perhaps the ideal for a garden. The size of silt particles allow it to retain moisture, as well as allow ample root growth, but also have enough cohesive energy to retain nutrients well.  This is like gummy Flintstones vitamins for kids — good for them and utterly fantastic.

Clay is the smallest size particle and most of us know clay better than any other form of 'soil'.  Clay and I became well-acquainted when we moved to Western Georgia and we couldn't till a garden and were forced to build raised beds. These stubborn soil particles are small enough that they fit tighter closely and form a layer.  Multiple layers fit snugly together in a way that prevents water and nutrients from penetrating. The result is that roots cannot penetrate the clay and drainage is poor. Basically, the plant dies a miserable death. On the positive side, clay isn't necessarily all bad. It has good moisture and nutrition retention. But that same "good" moisture retention can also be a problem, as I already pointed out.


Most of us have a mix of all three particle sizes plus some organic material.  Unless, of course, you are one of my neighbors and then you have only one particle size.  If you look at the triangle above with silt, sand and clay at the corners, the central areas are the best soil composition. Most natural soils are on the lower part.  This means that all you have to do is add a little bit of one component to balance your soil and create a productive garden space.  You lucky things, you.  I burn with envy.


Now that we've talked about soil, I'm sure that you are just itching to figure out what you've got in your backyard — your hidden garden potential.  Okay, maybe you're not.  Maybe you already know and you're reading this because you are just really loyal (if so, I really love you).

Whatever your reasons — take a shovel and dig a hole about six inches deep and remove the surface layer. Spoon about one cup of mix into a glass canning jar (or any clear container) and fill with 2 cups of water.  Shake it up for several minutes to fully mix the contents and yell, "Yahtzee" really loudly.  Let the jar sit for 24 hours and take a peek.  The small clay particles will be on the top, the coarse sand particles are at the bottom.
Now you know what you need to do to improve your soil.  Repeat the soil composition test in different areas of the garden and yard, then log it carefully in your garden journal or a random notebook that your kids have abandoned for no apparent reason.  This log will help when you attempt to plant in those areas and must know what to add to your soil to make it work for your needs.
This is the first of many soil themed posts.  I'm planning more.  MORE dirt!  Tune in next time for chats on green manure.  Check out other totally awesome and informative posts by visitng The Very Best of Our Site.  Or not.  But I really hope you do.