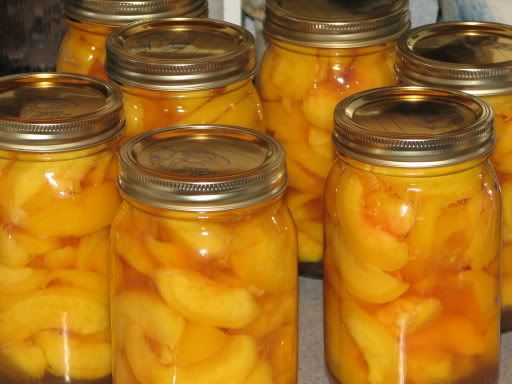 We have a complete and total irrational fear of being without food. There. I said it. Whew. I'm glad that's out in the open.
While I scoured the internet looking for the name for such a phobia, I came up empty-handed. This struck me as quite odd. After all, Josh and I watched our grandparents compulsively stockpile food because they were still haunted by memories of the Great Depression. They planted a garden year after year, filled an industrial size freezer (well, not quite "industrial" but obviously too big for two people) to overflow, and packed their cupboards with mountains of canned foods. They remembered being hungry as children. No doubt that they also absorbed their parents' anguish at not being able to provide for them because children are emotional sponges and have far more situational awareness than adults realize. But what about the residual effects?
While Josh and I weren't around for the Depression, we certainly seem to have absorbed our grandparents' fears. Oddly, the phobia appears to have skipped a generation. My own utterly worthless parents (thank goodness I found nonbiological replacements) appear to have many fears but none involving food shortage. My mother is terrified of being alone and without things (objects, junk, etc.). My father fears that his own needs will not be met because he is the center of his own universe (the rest of us are simply annoying satellites that botch up his view). I apologize for being blunt but I am attempting to keep it real.
So why the fear? Where did it come from? Did we really absorb it from our grandparents? Yes. I believe so. Because we didn't bond with our parents, we connected with our grandparents and modeled our own lives after theirs. Good thing, too. I sincerely hate to think what would have happened if we hadn't! Can I get an "amen"?
Are we alone in this fear? Do the rest of you hit the panic button when your food supplies appear to be even slightly depleted? Are you suddenly like, "Back this spaceship up, folks!" and must race for the nearest bulk grocer, Whole Foods, or Trader Joe's to feel complete again? Truthfully, between our garden, the chickens, and my ability to produce a meal with virtually nothing in the cabinets, we are certainly not running any risk of starving. Were all of that to disappear, we could live on the food I have canned or frozen and with Josh's superhuman Ranger survival skills… we'd make it. And while we're on the subject, he'd look mighty fine in survival mode. I'm picturing a Rambo-Crocodile Dundee-Tarzan-Bear Grylls thing going on.
Sorry (especially to all the men reading this post). Where was I? Yes… survival.
We would survive and the ultimate goal is to be set up so that we could survive comfortably. After all, isn't that what sustainability is all about? So the absorbed fears and the parenting (or lack thereof) combined to produce our attraction to this life. A life which we would not trade for the world. A life in which we can teach our children the values that our grandparents instilled in us, form a bond with our land, and live so that our ideals and our actions mirror each other.
—————————————————————————————-
CHECK IT OUT!  A hilarious post .  Click here to get your laugh on.  Comments welcome!
Check out the GREAT SOAP GIVEAWAY!  Visit our blog at GRIT.com and leave a comment to enter!